When used, BombBud will plant a bomb on the plot which will explode after a short timer, dealing heavy damage within a large radius. It can be extremely effective in killing many enemies at once. However, it is difficult to use safely as you must quickly escape the bomb's blast radius before it explodes.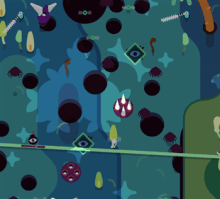 Strategy
This seed is one of the most expensive to plant in the game. Since the BombBud is very expensive to plant, it shouldn't be used to kill single, low-yield enemies.
An effective strategy is to lure multiple enemies into a chase before planting a BombBud in their path behind you.
Description
Lore
Trivia